Description
Polyethylene Pipe (Polyethylene Pipe) is one of the most widely used equipments in the industry, the reason for which should be considered as the main ingredient, polyethylene. This material creates properties that are preferred to other concrete, metal or cast iron pipes when transporting fluids such as water, oil, gas, sewage, etc. One of the most widely used polyethylene pipes is four inch polyethylene pipe, which is mostly used in the water supply sector in different places.
Specifications of four inch polyethylene pipe
The unique features of the four-inch polyethylene pipe, like other polyethylene pipes, is that it is highly resistant to chemicals, corrosion, and rust. Flexibility, lightness and different connections that can be made in different situations are other important reasons for using 110 mm size polyethylene pipe. Another important characteristic of the four-inch polyethylene pipe is its resistance to low temperatures and high temperatures, so that it is always mentioned to be resistant to sunlight and UV.
The specifications of the four-inch polyethylene pipe are such that it is mainly used as a pipe widely used in irrigation, transporting water in agricultural lands, watering gardens and greenhouses. has become In addition, 4 inch polyethylene pipe can be connected to all types of valves and drippers.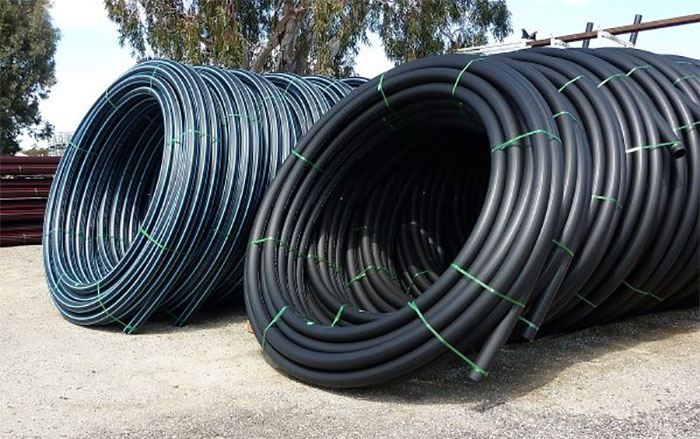 The price of four inch polyethylene pipe in Vala Polymer
The factors that have a very direct effect on the four inch polyethylene pipe price can be found in the quality of the material used in it, the price of raw materials, model, company The manufacturer knows the product brand, market supply and demand, currency market fluctuations, warranty and after-sales service. But with all the reasons mentioned, nowadays manufacturers such as Valapolymer Novin Industries, which is a pioneer in the production of various types of polyethylene pipes, do not list the prices of their products on their website for a long time due to severe currency fluctuations.
Purchasing four-inch polyethylene pipe at Vala Polymer is a safe method due to the history of this company in producing this type of products.
Purchase four inch polyethylene pipe from Vala Polymer
New Valapolymer Company, which is known as a manufacturing industry in the field of polyethylene pipes, has started its activity since 2005. The experience of these years has caused this company to produce high-quality products day by day by employing experts in this field and using the latest knowledge of this science. Of course, customer satisfaction has been an important factor in the progress of this company. All these factors can make buyers and customers more confident about their choice and contact the company to get information about the price list of four-inch polyethylene pipe.