Health and safety in polyethylene pipe and its properties
Single-walled polyethylene pipes are a cost-effective solution for a wide range of applications, including gas distribution, urban water supply and sewage, industries, marine and mining facilities, landfills, power and telecommunication channels. In addition, they are efficient for aerial, underground, surface, floating and marine facilities. If you add the potential of having lower maintenance costs and longer useful life to these things, we can understand the reason for the intense competition of these pipes in the world markets. One of the first applications of semi-dense (MDPE) was natural gas distribution. In fact, many of the systems that are currently in use have been operating since 1960 with considerable success. Today, 95% of pipes under 12 inches of natural gas transmission installed in America and Canada are single wall pipes, it is the product of choice not only in North America, but all over the world. For almost 50 years, single-walled pipes have been used in potable water applications, and they have continuously succeeded in receiving approvals and growth in urban uses. The single wall pipe is quality controlled according to NSF, AWWA and ASTM standards. Below are some of their special advantages:
Saving life cycle costs
In urban applications, single wall pipe life cycle costs can be significantly lower than other pipe types. The completely smooth inner surface of the single-walled pipe preserves the special properties of the flow and heat welding eliminates leaks. It has been proven that these items are a successful combination to reduce the operating costs of the system.
Leak-free and fully restrained connections
The connection of polyethylene pipes using thermal welding creates leak-free joints, whose strength is very strong. The use of welding in urban applications removes possible leakage points, which are 10% or more in other types of pipes, but this amount is relatively zero in single-walled pipes due to the possibility of using welding. In addition, the welded points of the polyethylene pipe have a self-retaining feature, which, while maintaining the integrity of the connections, eliminates the need for expensive shock absorbers or shock absorber blocks. Despite the advantages of the butt welding connection method, engineers have other ways to connect single-walled pipes, including electrofusion and mechanical connections. In electrofusion joints, pipes or joints are connected to each other using an electric heater embedded in them. Sometimes mechanical connections are needed to connect the pipe to other parts such as valves or other devices used. For such purposes, special connections have been created that are abundantly available to meet most practical needs.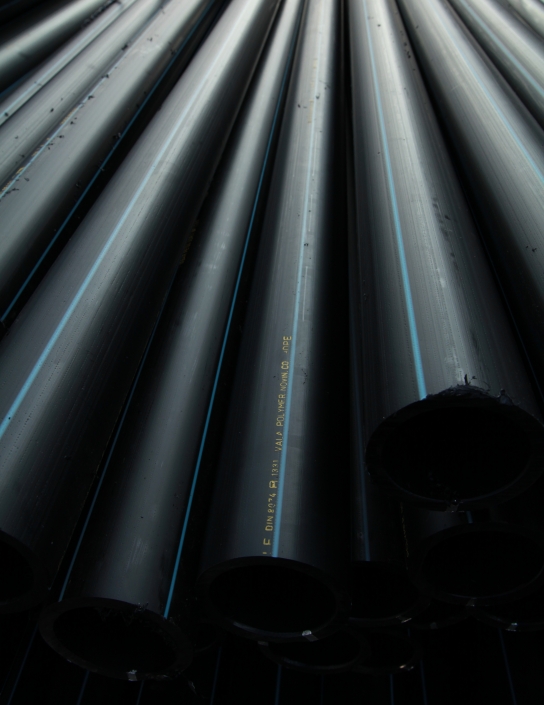 Corrosion and resistance to chemicals
Polyethylene pipes do not rust, rot, puncture, inflate, and do not cause the growth of living organisms inside or outside the pipe. Polyethylene pipe has great chemical resistance and is the first choice as a material used in many aggressive chemical environments. Although polyethylene pipe is not affected by natural soil that is chemically active, but like any other pipe, if the soil is contaminated with organic solvents, installation methods may be needed to protect the single wall pipe from contact with organic solvent. slow It should be kept in mind that protection against liquid penetration is necessary even in the case of metal pipes and other types of pipes that are connected to each other using washers. Generally, for all piping systems that are installed in contaminated soil, it is necessary to use protective solutions during installation that guarantee the quality of the fluid to be transferred.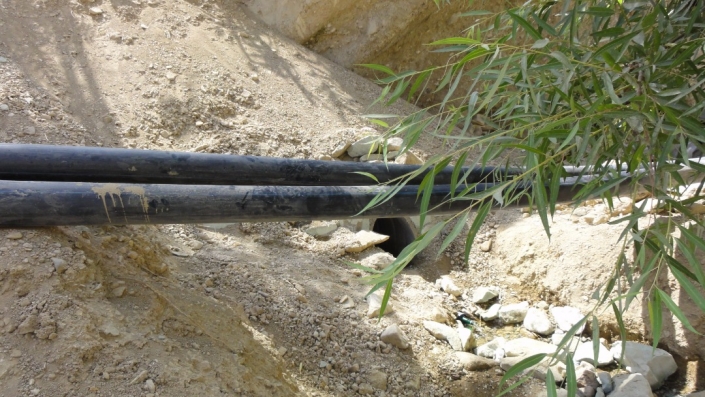 Flexibility and resistance to fatigue
Polyethylene pipe at the installation site can finally bend up to a radius of about 30 times its nominal diameter, which can be less depending on the thickness of the wall. This makes installation easier. The single-wall pipe has exceptional resistance to fatigue and under the highest operating pressure, it can sustain several pressure fluctuations up to 100% above its maximum working pressure without any negative effect on long-term performance capabilities.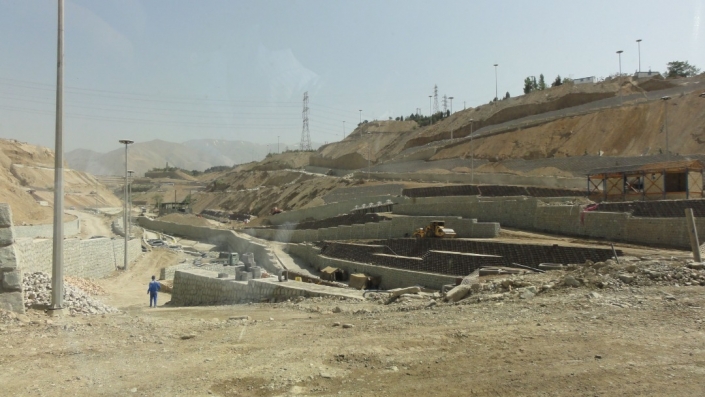 Seismic resistance
The toughness, flexibility of the single-walled pipe along with its other special properties, such as the joints without leakage and completely restrained by welding, have made it suitable for installation in active soil environments and places exposed to earthquakes.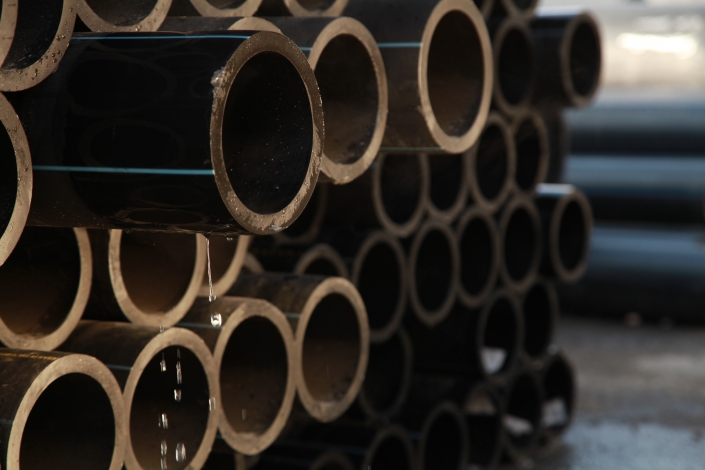 Durability
Single-walled pipe installations are affordable due to the physical properties of the pipe, leak-free connections and reduced maintenance costs, and are less expensive in the long run. The manufacturing companies estimate the useful life of these pipes to be between 50 and 100 years on average, provided that the system is designed and installed correctly and is used according to the published industrial samples and the suggestions of the manufacturer. This durability and long life will save money. In properly designed and installed systems, there is little need for ongoing maintenance. The single-walled pipe is resistant to most common chemicals and is not susceptible to the risk of galvanic corrosion or electrolysis.
Hydraulic efficiency Since the inner surface of the pipe is free of any roughness, these pipes are placed in the smooth category, the group that creates the least resistance to fluid flow, without corrosion, swelling or the growth of living tissues, the smoothness of the inner surface and its flow capabilities. maintains and guarantees the hydraulic efficiency of the system during the intended design life. Temperature resistance The common operating temperature range of the pipe in high pressure working conditions is 0 to 140 degrees Fahrenheit. But for low-pressure working conditions and some special applications, this material can withstand much lower temperatures (up to -40 degrees Fahrenheit and below), and there are also special formulations of them that can be used at relatively higher temperatures. Extensive tests and many applications of these pipes in very cold environments have shown that these working conditions do not have a great effect on the strength and functional properties of the pipe. Many of the polyethylene resins used in single-walled pipes have been subjected to stress tests not only at the standard temperature of 73 degrees Fahrenheit, but also at higher temperatures such as 140 degrees Fahrenheit. Polyethylene materials retain approximately 50% of their strength at 73°F at 140°F, while PVC at 140°F loses nearly 80% of its strength at 73°F. As a result, polyethylene pipe can be used in many plumbing applications in a wide range of temperature changes.
Toughness
Toughness is the ability to change the shape of a material under the influence of stress, without breaking or eventually breaking. Also, sometimes the ability to increase the strain from the increase in length is interpreted as toughness, and this is one of the important features of the single-walled pipe, both when it is used on the ground and underground. For example, as a result of loading from the ground surface, the polyethylene pipe buried in the soil changes its shape Its circular cross-section changes to an oval, and its vertical diameter decreases and its horizontal diameter increases slightly. Increasing the horizontal diameter causes the earthen wall to pressurize the width of the pipe, this pressure prevents further deformation of the pipe and ultimately leads to the stability of the pipe. Toughness has always been considered as one of the special and inherent characteristics of this pipe, and this has been one of the main reasons for the continuous use of this material for natural gas distribution in North America for more than 30 years. The toughness of their new generation has been significantly improved in comparison with the old examples – which by themselves were very successful in the gas, water, sewage, industrial, marine and mining applications 50 years ago. The viscoelastic properties of viscoelasticity of single-walled pipe are materials with viscoelastic structure. Due to its molecular nature, polyethylene has a complex combination of fluid and elastic behavior. As a result, this material exhibits properties between metal crystals and very viscous, slow-flowing fluids.
Creep and stress damping Creep is a component of deformation that is defined as a time-dependent viscous flow component. Creep is also defined as the response of polyethylene to a constant load over time. When polyethylene is subjected to a constant load, It immediately undergoes a deformation which can be predicted by the elastic modulus which can be predicted from the tensile stress-strain curve. In addition to this instantaneous deformation, the material continues to deform at a slow rate under high loads, and if the load is high enough, the material may buckle or break. According to industrial standards, single-walled pipes are designed as part of hard materials, so that according to the proposed industrial examples, the deformation resulting from load bearing, or in other words, the same creep, is reduced so much that it can be ignored from the point of view of engineering. Stress damping is another unique feature that is the result of the viscoelastic nature of polyethylene.