Description
In the past, the use of non-standard pipes changed the color, smell and taste of water, which endangered the health of citizens. With the research that has been done, polyethylene pipes for drinking water were offered. The drinking water polyethylene pipe does not change the water and you can drink healthy water. On this page, we will review this product so that you will first be familiar with the specifications of the pipe and then be guided about the purchase.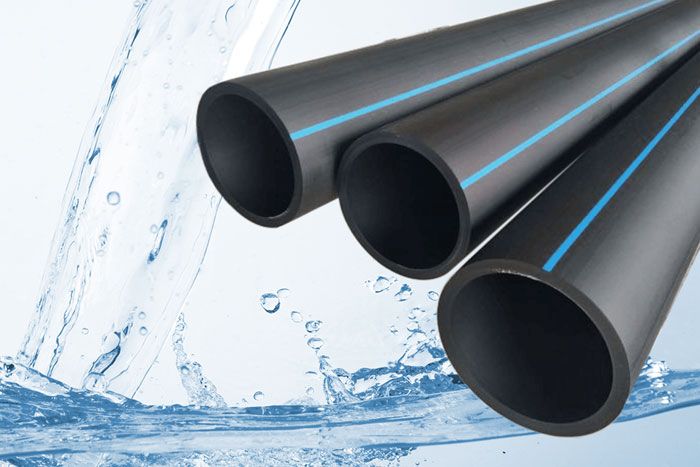 Specifications of drinking water polyethylene pipe
The type of raw materials used in the production of polyethylene drinking water pipes is different from the raw materials of water supply pipes. 100% new materials are used in the production of these types of pipes; Also, these materials must have the necessary health approvals. In addition, to use polyethylene pipes in drinking water, an agree food permit must be obtained from the Food and Drug Organization and the Ministry of Health. Also, the type of polyethylene raw materials produced in petrochemicals for drinking water, water supply and irrigation is the same and there is no difference.
The specifications of drinking water polyethylene pipe can be mentioned as follows:
There is a blue band on this type of tube;
It has high flexibility;
Its maintenance cost is low;
It has very good hydraulic properties;
Its coefficient of friction is low;
It has a very light weight;
No sediment is created in it;
Supplied in the form of branches and coils;
Its size is between 50 and 630 mm;
The length of the branches is between 6 and 12 meters and the length of the coils is between 50 and 100 meters;
They are usually produced at a working pressure of 6, 10, 16 and 20 atmospheres;
It is very easy to install;
It has very good strength;
It has a low expansion and contraction coefficient;
Its thermal resistance is between -20 and +50 centigrade;
It is resistant to rodents.
So according to the specifications mentioned above, drinking water polyethylene pipe has many advantages over other materials such as metal.
The price of drinking water polyethylene pipe in Vala Polymer
The price of drinking water polyethylene pipe depends on many factors. Standard grade, quality of materials used, size and thickness, brand and country of manufacture, exchange rate, etc. are all factors that affect this product.
While the currency price plays an important role on the final price of the product; Because in the last few years, we have seen a lot of fluctuations in the exchange rate inside the country. These changes affect the price of raw materials for the production of polyethylene pipes. For this reason, many companies provide price list of drinking water polyethylene pipe to their customers on a daily basis.
You can also contact us at Vala Polymer Company to get the daily price of this product and get the updated price. Also, our experts can guide you in purchasing.
Purchase polyethylene pipe for drinking water from Vala Polymer
Now that you intend to buy a drinking water polyethylene pipe, you should make your purchase from a reputable company. One of the active companies in this field is Novin High Polymer Production Industries. Our company has started its activity since 2005 and markets all kinds of pipes, including drinking water polyethylene pipes.
Vala Polymer produces all its products based on national and international standards such as INSO 14427, ISIRI 7607, ISO 9001-2008, ISO 14001:2004 and… Compliance with these standards in the production of polyethylene water pipes promises dear customers that they will buy the best product.